Our Services
At BrainSmart we work in collaboration with our clients to deliver programmes that closely fit the organisation's culture, needs and desired outcomes.  
Whilst we know that the brain benefits from learning new information that is spread out over time, we appreciate what a precious resource time is for our clients and so we are flexible with how we deliver our workshops and development options.
BrainSmart Development Programmes
BrainSmart Leadership Academy
The traditional view and role of leadership is changing as businesses strive to adapt to today's business environment.  Technological and social changes are disrupting successful business models and creating faster paced change and greater complexity.  Leaders are being challenged to find better ways of leading themselves and others in a volatile, ambiguous and uncertain world.
Learning how to lead in a brain friendly way offers competitive advantage.  Eighty percent of what we know about the brain has been discovered in the last 20 years, and now this information is available to help leaders think differently, manage energy, focus attention, deal with their own stress and develop the ability in themselves and their people to remain calm, creative and productive.
The BrainSmart Leadership Academy is an extensive development programme with an emphasis and focus on personal leadership, self-awareness, effectiveness and the ability to inspire others. Each of the 6 modules builds on the next with projects between modules to embed learning.  It integrates the use of personal leadership assessment tools based on the principles of neuroscience to facilitate deeper self-awareness and development of those leadership traits, attributes and behaviours required to thrive in the 21st Century.
In the Leadership Academy we focus on the following key areas, all with the brain in mind:
Performance
Collaboration
Innovation
Agility
Resilience
Application in the workplace
Leading BrainSmart Change
We know that up to 80% of change initiatives in business are still unsuccessful today (source – McKinsey & Company) and that we need to be able to develop our ability and agility to navigate continuous change and harness the energy and engagement of ourselves and our people.  Many leaders, however, are often unconsciously creating stressful workplace environments which can limit effective thinking, demotivate people and leave them depleted and disengaged.
Neuroscience is giving us new insights into human behaviour and revealing unseen connections in the living human brain which are showing that not all human behaviours in the workplace work the way we initially thought they did.  This has implications for us as individuals, and for how we lead and influence other people.
Our Leading BrainSmart Change Programme is based on recognising 5 key principles which influence our hard-wired response to change:
Our brains crave certainty and change offers us none of this
We default to the negative and see the downsides of change before we see the positives
More than 50% of what we do is driven by habit to minimise effort and conscious thinking – change requires us to change our habits
We have limited resources for paying attention and learning new things – making change requires more focus and drains our energy
We have limited willpower to resist doing what we have always done and do things differently
When we understand our thinking and behaviour patterns, the power of our habits and the potential for personal change, we can develop our capacity for being BrainSmart in all that we do.
Download Leading BrainSmart Change Flyer
"Understanding how the brain functions (BrainSmart) was fascinating and has helped me to be more aware of and understand my team's reaction to change. I hope to be able to manage change and their reaction better going forward"
Dealing with Change and Building Resilience
We have developed a suite of 6 online modules called 'Dealing with Change and Building Resilience' that we deliver in a blended learning format using a mix of self-paced and face to face learning.
Each module covers:-
The History of Change and our Brains and Change
Understanding Stress
Strategies for reducing Stress
Understanding Change
Strategies for dealing with Change
Building Resilience
Research shows that the brain retains information best when it is presented in smaller chunks over longer periods of time and with built-in opportunities for reflection and practice in-between. Together with a requirement for flexible learning options, this has been the stimulus for us to create an online option delivered in the client's own time.
We also provide supporting resources to help individuals build their understanding of Change and Resilience and to apply it to their workplaces and lives in real time.
Please click on the video link below and download the programme flyer to find out more.
Staying Cool Under Pressure
Mastering Emotionally Intelligent Personal Leadership 
We operate in a VUCA world, a business environment that is Volatile, Uncertain, Complex and Ambiguous.
A leader's role in the 21st Century has expanded beyond compare and it's no longer good enough to be strategic, analytical and logical – we need leaders to be inspiring, imaginative and engaging.
The pressure on leaders to be all round experts in strategy, innovation and people is taking its toll. It's not only employees who are feeling the stress.
A key trait of emotionally intelligent leaders is that they are able to keep their head when all around seems in chaos. Their ability to remain calm under pressure and role model resilience has a significant ripple effect on the rest of the organisation.
Staying Cool Under Pressure is an exploration into the world of understanding stress and managing emotions. It's the nearest we'll ever get to having a user manual for the brain and the strategies you learn are guaranteed to work… if implemented.
What You Will Learn
Explore those parts of the brain responsible for staying calm and for 'losing it'
Identify your individual triggers for stress
Uncover the hidden stressors of the workplace that put the brain into threat
Understand the critical difference between reacting and responding
Learn and apply practical strategies for staying cool under pressure
"You delivered an engaging and highly interactive session on staying cool under pressure as part of my firm's learning and development seminars for in-house lawyers.  The session thoughtfully explored the world of understanding stress and managing emotions. We were challenged to think differently in order to become better leaders and managers that are inspiring, imaginative and engaging" – Simeon Ling - Squire Patton Boggs
Powering Up Your Productivity
Transforming from Distraction and Procrastination to Focus and Action
It is estimated that at least 50% of what we do on a day to day basis is driven by habit (Duke University).  We use and need habits to help us manage our world, but not all of our habits are helpful. Habits that supported us in one situation may not be so helpful in another.  We have the capacity to change existing unproductive ways of working and replace them with ways that are more useful to us.  This requires us to first know our productivity habits and then to set up different habits, processes and systems that serve us better.
In 'Powering Up Your Productivity' we focus on:
Exploring how our brain creates and forms habit
Identifying the 3 critical elements of a habit and which one to change for success
Discovering why energy is more important than time for being effective and productive
Uncovering what our leadership habits of productivity demonstrate to our people
Learning and applying practical, workable strategies for developing and maintaining focus and attention
Coming away feeling inspired to action by applying the H.A.B.I.T.S formula for greater productivity, a healthier lifestyle and a real sense of achievement
"Really useful to consider habits and whether they are adding value or taking away. Interesting to see the effects of habits, very useful for practical application"
Mastering Brain-friendly Learning
Creating Learning Experiences that Engage, Inspire and Stick
Skilling people up is an expensive business. There are numerous explicit and hidden costs and a return on investment is essential in the form of increased sustained performance.
If we want learners to be inspired to go back to their workplace and implement what they have learned, then we need to make learning an inspiring, unforgettable and enjoyable experience.
In an age of business disruption where innovation and creativity are key differentiators, how people remember, apply and use what they have learned, is a critical success factor
Did you know that people can forget 50-80% of what they've learned after one day and 97-98% after just a month? (University Waterloo, Ontario). When we create learning experiences for others, we need to start with the brain in mind. Understanding how our brains learn, remember and forget, sets the scene for creating an enriching environment where people want to actively participate, gain skills and knowledge and change for the better.
Mastering Brain-friendly Learning is a one-day deep dive into the world of learning and how to create learning environments and experiences that cater to differing intelligences, learning preferences and maximise application back in the workplace.
Your Learning Outcomes
How to increase ROI by creating unforgettable learner experiences
A six step process for total inclusion and involvement in the learning experience
How our brains learn, remember and forget and what to do about it
Design sessions that cater to our 9 multiple intelligences
Create an environment where learners are motivated to learn
Discover why story and metaphor are the secret ingredients to powerful learning
How to transform ourselves from the 'sage on the stage' to the 'guide on the side'
The 8 R's of embedding learning so that knowledge is retained not forgotten
How to maintain your own motivation and emotional state to inspire
"What a brilliant day, you are such an engaging facilitator and the team really enjoyed the workshop and have already been trying out their stories and metaphors" B.T. Bunnings QLD/NT
Getting to Grips with Unconscious Bias
Building awareness of how those judgements and stereotyping we are unaware of are impacting the decisions we make, the relationships we build and the results that we get.
Our unconscious biases directly affect not only who gets hired, developed and promoted, but also the ability of teams to perform at a high level, the effectiveness of our leaders in decision-making and change, the health of an organisation's culture and the relationship it has with its customers.
Getting to Grips with Unconscious Bias is a highly interactive workshop that explores the world of human evolution, neuroscience and the different approaches being taken to address workplace bias. The focus is on increasing our understanding of the most prevalent biases that impact our ability to be impartial and objective and on developing practical strategies to deal with bias effectively.
What You Will Learn
the role of our brain in creating unconscious bias in ourselves and others
the upsides and downsides of bias in the workplace
making the unconscious conscious through awareness
managing the most prevalent biases in our workplace
practical strategies to develop awareness and mitigate our biases
Our BrainSmart Online Development Programme
Dealing with Change and Building Resilience
BrainSmart Case Study
We have been working with an organisation in the Financial Services sector since 2016 delivering the Dealing with Change and Building Resilience program in a blended learning format and with significant positive results.
"The insight on how the brain works has helped me plan my day and week better to avoid 'going limbic'! I now plan tasks which require new thinking or concentration for limited periods throughout each day and break them up with routine tasks"
Psychometric Profiling and Assessment Tools
Increasing Self-Awareness through Profiling 
We know that the ability to be self-aware is a key component of Emotional Intelligence and it is also crucial for contributing to our own personal journey of development. The tools we use are described below. Each tool is supported by coaching to debrief the assessment and to plan the follow-up development.
Anne and Clare are accredited in a number of profiling tools and  work with you to establish which will be the most effective for you as individuals or team members.
We also work with you in a coaching capacity so that you get the most from the tools long after our programs have finished.
Team Management Systems (TMS)
We are accredited to use the whole suite of Team Management Systems (TMS) instruments and we offer both Individual and Team Profiling using the:
Team Management Profile
Strategic Team Development Profile
Team Performance Profile
QO2 (Opportunities and Obstacles) Profile
These different instruments offer simple, practical, and powerful insights into individual and team work preferences and behaviours. Anne (a Master Trainer) and Clare use these tools with individuals and teams across a wide range of clients and industries.
Team Management Profile (TMP)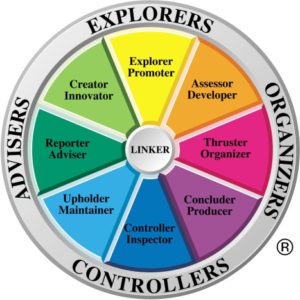 The Team Management Profile is a 5,000 word profile which highlights work preferences and provides information on an individual's Decision Making, Leadership/Team Member Strengths, and Interpersonal Skills.  It is a very useful way to help team members:
understand how they operate – both as individuals and as team members
recognise different approaches to work and how these can contribute to effective teamworking
value, and use, the different strengths from the Profiles within the team
enhance team members' skills in communicating and dealing with each other, and the people outside their team they need to work with (customers, clients etc)
At a team session, the team receives its own Team Plot showing the different work preferences in the team and individuals learn how to enhance their skills in communicating and dealing with each other and the people outside their team they need to work with (customers, clients etc). They also have fun!
The QO2 Opportunities and Obstacles Profile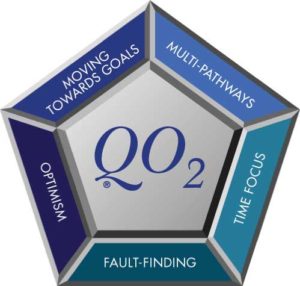 This Profile highlights the balance of effort people put into seeing the opportunities and obstacles at work, and how they are likely to approach risk.  It also identifies how people will see, and respond, to new situations and changes, solve problems and sustain focus on their goals.
Everything DiSC
Everything DiSC®  is a psychometric personality assessment that measures an individual's behavioural style. This research-validated model helps individuals to understand themselves and others to be able to build more effective working relationships that are built on an understanding of their different needs, priorities and communication styles. This increased understanding of yourself and others on a team results in saving time, increased energy and engagement, reduced conflict and improved performance. Everything DiSC is used by millions globally each year to improve team performance.
In the Everything DiSC family there are over six different personality assessments which are application focused. The reports are tailored to present application activities to you as an individual contributor, team member, manager, leader or sales person. Everything DiSC offers immediately applicable personal development solutions to build better relationships that lead to better workplaces and increased productivity.
Five Behaviours of a Cohesive Team
The Five Behaviours of a Cohesive Team™  is an assessment-based program that focuses on putting The Five Behaviours model of Trust, Conflict, Commitment, Accountability, and Results into practice.
The program is designed to help teams to have deeper conversations about how they work together on a day-to-day basis. It is a program that is rich enough for a team to come back to do again and again.
The Five Behaviours of a Cohesive Team grew out of a decade-long relationship with Wiley and Patrick Lencioni and his colleagues at The Table Group. During the development process, they extensively tested and refined the program with more than 300 teams and 3,500 team members.
Everything DiSC Productive Conflict Model
Everything DiSC® Productive Conflict is a classroom training and personalised learning experience that increases self-awareness around conflict behaviours and helps participants effectively respond to the uncomfortable and unavoidable challenges of workplace conflict.
Rather than focus on a step-by-step process for conflict resolution, it offers personalised techniques to curb destructive behaviours so that conflict can become more productive, ultimately improving workplace relationships and results.
The i4 Neuroleader Model and Leadership Assessment
What is creating value in the current global economy? The team at the About my Brain Institute who created the i4 model believe that it lies in a person's ideas and thinking.
Together with an innovative mind, developing personal leadership attributes is vital when collaborating with others to bring ideas to life.
Making this happen while staying relevant, requires agility and optimal brain performance to meet the demands of this ever-changing world.
The economic landscape and work environments have changed and become more complex than we ever imagined. Existing leadership models have not kept up with these changes, hence the need to adopt a renewed perspective on leadership.
The 'i4 Neuroleader Model' proposes a new approach to leadership and a more cost-effective way to reawaken the leadership powers within us, by first identifying our inner abilities and then learning how to use them more effectively. The model features brain and body processes that have been relegated and in many cases forgotten when it comes to leadership and management practices.
Abilities such as inspiration, intuition, imagination and the importance of an integrated brain are the origins of the term 'i4'. These four abilities exist in our brains and bodies and anyone can learn how to develop them.
We offer:
an individual self-assessment
a 360° degree feedback assessment inviting up to 20 'raters' (peers, boss, team members, friends, family, clients etc.)
optional coaching programme to help uncover and explore the areas of strength and any potential blind spots for development
It is in the continued development of self and others' awareness that the strength of this cutting edge tool based on neuroscience principles can be leveraged.
BrainSmart Coaching (Neurocoaching)
BrainSmart Coaching (Neurocoaching)
All of our coaching engagements include deepening our client's knowledge of their brain so that they can first understand their thinking and behaviour patterns, then change them to better suit their needs and the needs of the people they manage.
Coaching can be offered face to face, by Skype or by telephone and clients are given tools, strategies and exercises to practise in-between sessions.  
"Clare has been excellent, very professional, thought provoking and a fantastic listener.  She has introduced me to new ideas and raised my confidence to another level."